Last month, the UK VAPE market has been a storm of compliance, while ZOVOO has always insisted on product compliance and adhered to its corporate responsibility to guarantee a safe and pleasant product experience for users.
In the list of "Best Disposable Vapes 2023" issued by Vaping Vibe, the world's leading vaping media, three products of DRAGBAR series were selected which are DRAGBAR 5000, DRAGBAR B5000, and DRAGBAR R6000, sprinting for the top of the industry.
In the highly competitive disposable e-cigarette market environment, DRAGBAR disposable products are deeply loved by vaping media and fan users, fully reflecting the leading brand strength of ZOVOO.
Funky and functional DRAGBAR 5000
DRAGBAR 5000 is a representative work of ZOVOO's high capacity disposables and one of the star products with excellent taste. It comes in a two-tone bottle-shaped design, and delivers a perfectly draw for vapers.
Award-Winning DRAGBAR B5000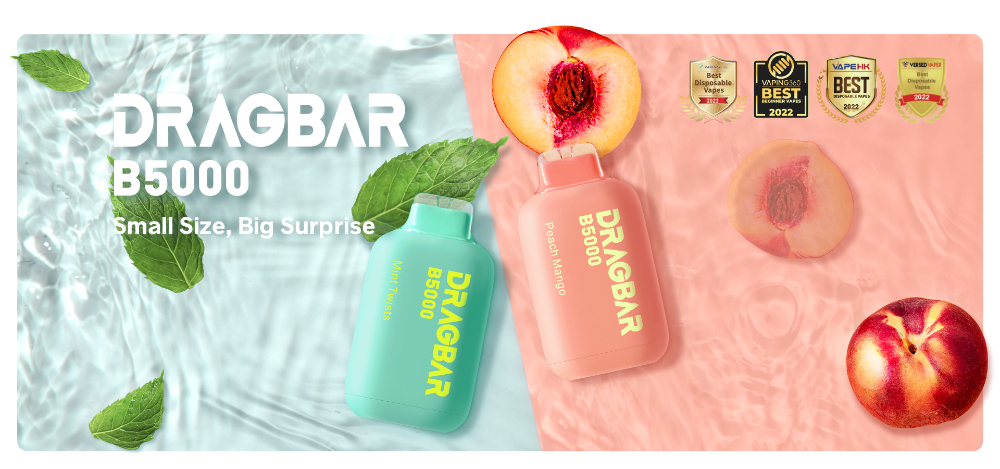 DRAGBAR B5000 has a small and lightweight body, stylish and portable. Mesh Coil is used to highly restore the taste. It has a symmetrical box structure design, crystal mouthpiece and skin-friendly frosting texture, which show the extraordinary momentum of the trend creators.
First 3mg sub-ohm disposable DRAGBAR R6000
Following the classic design of DRAG, DRAGBAR R6000 is a perfect alternative to traditional RDL vaping devices for cloud chasers. Airflow adjustment function is adopted, comfortable vaping can be adjusted at will.
DRAGBAR is ZOVOO's star series, which has excellent performance in the market. At present, ZOVOO has a complete product line covering whole user scenarios, and its products are sold to more than 70 countries and regions in North America, Europe and Asia.
ZOVOO has always been adhering to the brand concept of "user-focus", constantly focusing on multi-dimensional fields such as technological innovation, brand innovation and product innovation, and continues to lead the user experience value upgrade.
In the current highly competitive disposable vape market, ZOVOO has always adhered to compliance standards, innovated to create quality e-cigarettes, and forged a global leading brand.
Instagram: https://www.instagram.com/zovoo_official/
Facebook: https://www.facebook.com/zovootechofficial