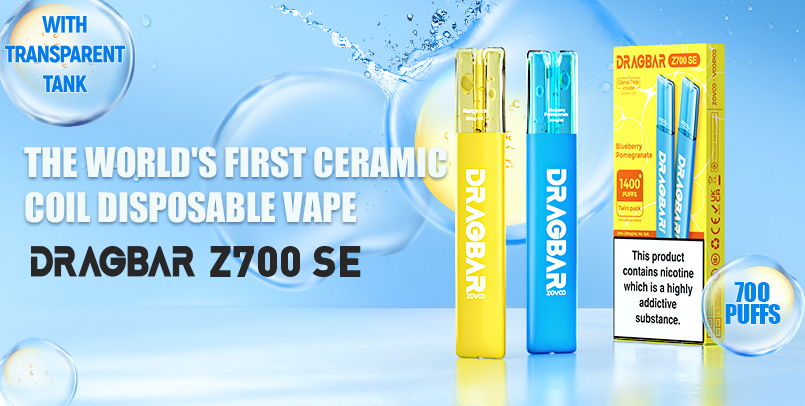 During the passing Vaper Expo UK 2023 held in Birmingham, the UK, a disposable brand FEELM claimed their so-called "World's First Ceramic Coil Disposable Solution", which seemed to be a piece of news to the entire show.
However, in response to this, DRAGBAR found that this vape brand was not rigorous enough in its product positioning. As we all know, on 15th March this year, DRAGBAR Z700 SE was officially launched, which is the world's first fully visible oil tank disposable vape with GENE TREE ceramic coil technology solution in the UK, TWO MONTHS before FEELM's announcement of its new solution in mid-May!
Moreover, DRAGBAR Z700 SE has surpassed 2 million sales in the UK in the first week of product launch and has won the ecigclick award, which is issued by one of the most authoritative and influential e-cigarette websites in the UK. It is also greatly praised by numerous customers and vape media, such as ecigclick, which is deeply impressed by the product's "consistent flavor and ultra-pure taste". This is a clear indication that the DRAGBAR Z700 SE is not only the world's first futuristic ceramic coil disposable, but also a very mature product itself, more than just a new solution.
Ceramic Coil Solution is indeed a breakthrough to the whole disposable industry, which guarantees a truly consistent flavour to the last puff, offering a pleasant and soothing vaping experience. As a World's leading disposable e-cigarette brand, DRAGBAR, with an open and inclusive attitude and a humble spirit, is glad to see more and more disposable vape brands achieving technological innovation and making outstanding contributions to the industry.
Taking "By your side" as brand slogan, DRAGBAR always adheres to the business philosophy of "user-focus", trying to provide global consumers with richer and diversified product choices. The eye-catching DRAGBAR Z700 SE is just a microcosm of DRAGBAR's endless pursuit for technology innovation. In the future, through technological innovation and deep exploration of user needs, DRAGBAR continue to surprise users worldwide and contribute to reshaping the health ecology of the VAPE industry.
*During internal testing, Dragbar Z700 SE can support 700 puffs at maximum. (The actual number of puffs will be affected by personal vaping habits)
WARNING: This product contains nicotine which is a highly addictive substance.