DRAGBAR C1&C1 POD officially launches in Malaysia with the slogan of "Switch at Will", starting from May 26th. It is a revolutionizing vaping device that offers a unique, cost-effective, and eco-friendly vaping experience.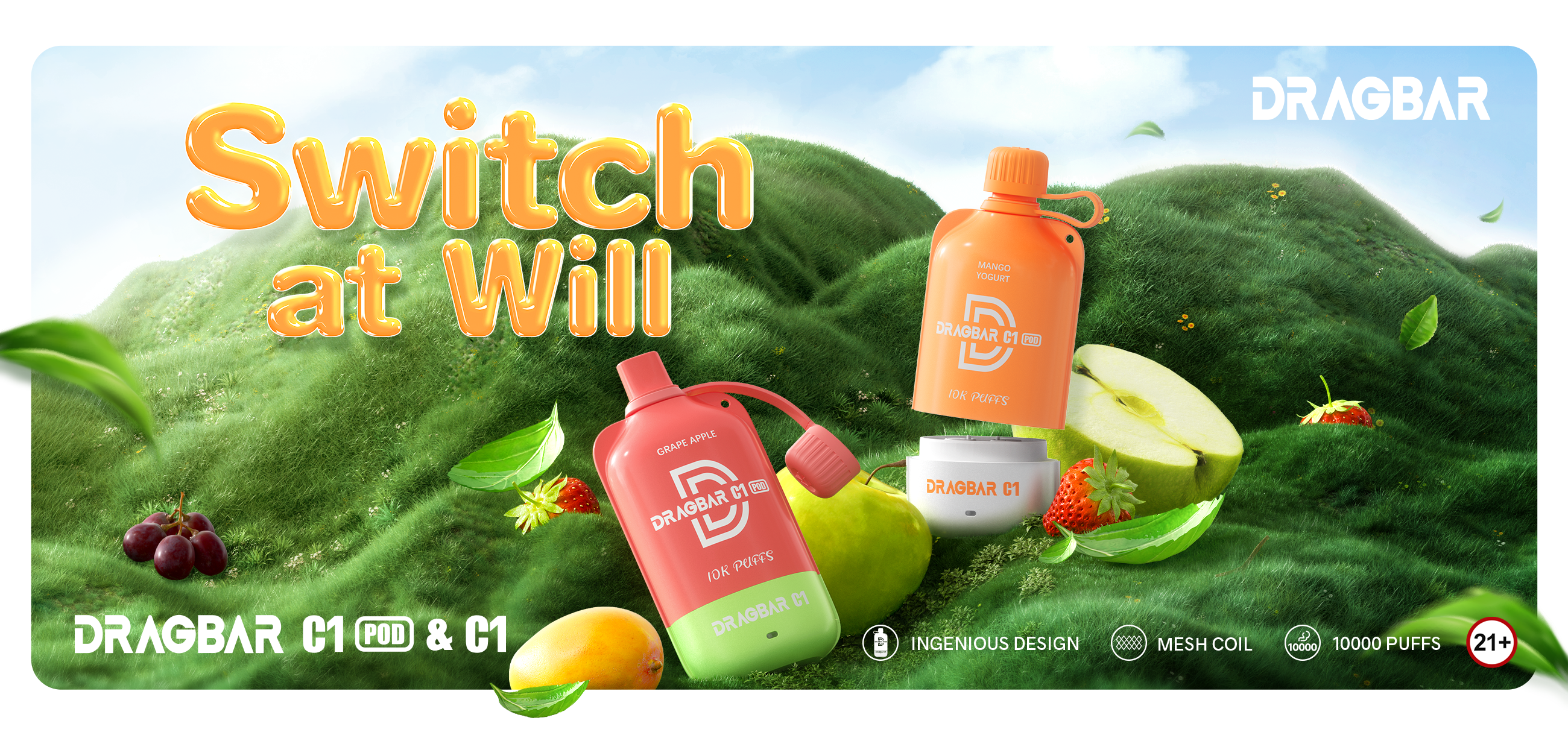 Unique design, switch colors at your will
Replacing other pod devices, the DRAGBAR C1&POD device is lightweight with symmetrical designs that offer playful yet economical benefits. With its colorful feature, DRAGBAR C1&C1POD enables a single device with multiple colors, which can be freely changed with 10 different colors and full of fun. The product design is compact, and it can be easily carried around with its patented lanyard, making DRAGBAR C1&C1 POD a fun vaping experience.
More cost-effective, super large capacity, up to 10000 puffs
The DRAGBAR C1&POD offers an outstanding feature with its environmental approach, contributing to the earth's environment while also offering significant cost reductions. Designed for meeting extremely long-lasting experience. The device has a super-large 18ml pod capacity that ensures users can enjoy vaping for a more extended period. The product can go on and on with up to 10,000 puffs, with a 500mAh battery capacity and Type-C fast charging that keeps the user's vape experience uninterrupted.
Upgraded Mesh Coil, exquisite and multiple flavors
The DRAGBAR C1& C1 POD comes with an upgraded Mesh Coil that provides rich, delicate flavors with each puff, giving it a unique vaping aura that lingers between lips. The product's Mesh Coil ensures the consistent freshness of every puff, with no oil leakage possibility, giving users a full and lasting pleasant vaping experience.
It offers ten different flavors made possible by the replaceable pods full of exciting tastes. The flavors are Root Beer, Cranberry Grape, Grape Apple, Mango Kiwi, Mango Yogurt, Peach Mango, Strawberry Blackcurrant, Strawberry, Watermelon, and Yakult.
The DRAGBAR C1&C1 POD will be available on May 26th in Malaysia. The price can be discussed with sales professionals within respective regions. For more information, visit izovoo.com.
WARNING: This product may be used with e-liquid products containing nicotine. Nicotine is an addictive chemical.