March 27th, world's leading compliant disposable e-cigarette ZOVOO proudly released its long-awaited new disposable product of DRAGBAR star series, DRAGBAR B6000, which quickly Ignited the passion of Russian users.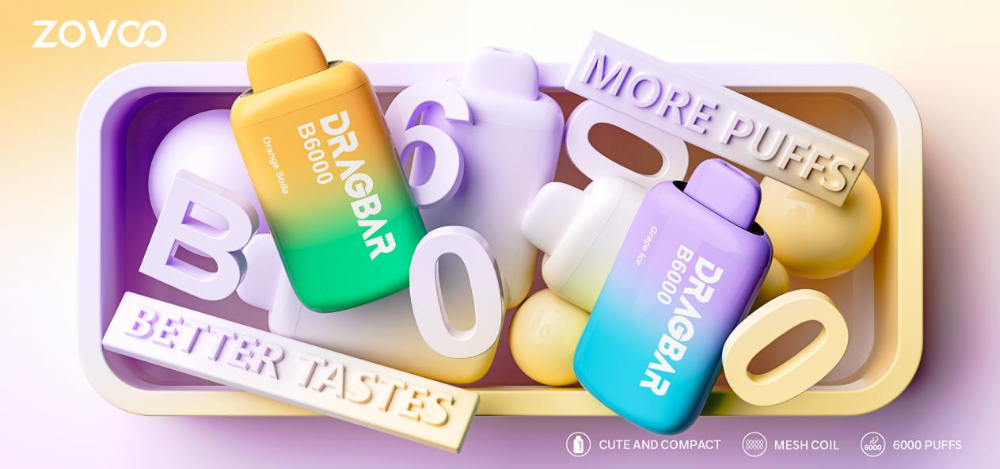 Previously, the DRAGBAR B5000 was already a hit in Russia, which won the hearts of many KOLs and consumers. Now DRAGBAR B6000 comes out to the market in Russia with its brilliant slogan "More Puffs, Better Tastes!". The eye-catching new DRAGBAR is quite different from the previous products and has quickly gained its popularity in the Russia with its upgraded extra-large puff and gradient design. There is no doubt that the new launch is a good example of ZOVOO's upgraded strategy to diversify its products in Russia.
Small box appearance with extra-large puff
DRAGBAR B6000, which follows the design of the hot new box appearance, is the first box-shaped disposable vape with an extra-large puff.
13ml large capacity, farewell to anxious e-liquid consumption. 6000 puffs for a long-lasting vaping experience. Equipped with 500mAh battery capacity and Type-C fast charging, so that more pleasant vaping can last longer.
Mesh Coil, better tastes
Mesh Coil provides a rich and juicy flavor to every puff, with a highly reducible taste and an irresistible freshness. With the built-in Mesh Coil, the vaping is smoother and more delicate, with a strong burst of power and great taste.
Create new flavors that break out of the norm, give users taste buds more freedom. DRAGBAR B6000, a must-have for fashionistas, releases 12 new mixed flavors to choose from.
Exquisite appearance, rich colors
Moods vary, so does colour palette. DRAGBAR B6000 adopts gradient color design, whose contrast colors bring more enjoyment in daily life. Every detail of DRAGBAR B6000, dynamic and static, deduces the fashion trend and leads the ultimate aesthetics.
Thr new DRAGBAR also has a compact size that fits in users' palm better than ever and its flattened mouthpiece is designed to fit more closely to the human lip.
DRAGBAR is ZOVOO's star product line, standing out for its compactness and great taste. Incorporating a fashionable and pioneering design concept, DRAGBAR B6000 brings a new generation of puffing experience to its users.
Since its launch in 2020, ZOVOO has always adhered to the concept of "user-focus" and constantly develops new disposable vapes to meet the ultimate needs of users all over the world.
In the past 2022, ZOVOO has made a breakthrough that it obtained 12 Vape Awards for its continuous innovation and excellence. Furthermore, ZOVOO is also world's leading compliant disposable e-cigarette with its products undergoing specific product certifications in respective regions.
For more information, please visit https://www.izovoo.ru and follow ZOVOO on Telegram and VK.
Telegram: https://t.me/zovooru
VK: https://vk.com/zovootech
WARNING: This product may be used with e-liquid products containing nicotine. Nicotine is an addictive chemical.